Our Motto, "To thrive as beacon in the darkness of ignorance"
Welcome to Vimal Hriday Convent School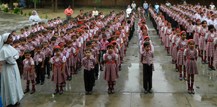 A thriving Beacon!
Yes. We, through our school Vimal Hriday Convent School, Dulhera Kalan, Bawal, make an earnest effort to be a beacon which shines in the darkness of ignorance!
Our website with its user-friendly multiple tools and options, guides you through the manifold features of our school. You can see our mission and our commitment to education for over two picturesque decades.
We bid you a hearty welcome to the sacred corridors of Vimal Hriday Convent School.
Principal's Message
Dear Parents, Students and Friends,
Patience and perseverance lead to success Education makes us practice each word, each thought and each instruction several times over. However, we give up too easily. All of us want immediate returns for all that we do. We lack Patience and humility. We lack patience with ourselves and with everyone else. Any indiscipline, any quarrel is mainly due to this reason. This is even more visible around us today. All of us are in a hurry. We have no time to listen to others. We Are totally bereft of a give and take, attitude. We Only take! We become aggressive and proud. Let Us learn to be patient and humble. Let us teach everyone the importance of these virtues which in turn will bring us a lot of happiness and contentment.
May God bless all of You!
School Address
Vimal Hriday Convent School
Jhabuwa Road, Dulhera Kalan
Teh – Bawal, Distt – Rewari
Haryana – 123 501
Contact No – 999 145 1743,
Know more…
Photo Gallery
Updating Soon…
Admission Open
Admission open for 2019-20
School Anthem